Bristol retirement flats residents' lift fixed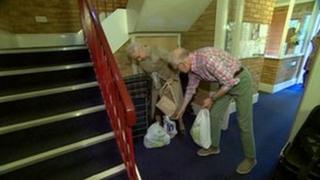 Elderly people in a retirement complex in Bristol say they are "delighted" a lift that was broken for more than a month has been fixed.
Residents at Ferndown Grange retirement complex, near Henleaze, had been "trapped" since August despite promises from Peverel Retirement to fix it.
"Its been a complete nightmare from start to finish," said Judy Ross, 78.
A Peverel Retirement spokesman said the company "apologised sincerely" to the residents.
'Stopped being prisoner'
Mrs Ross, who has rheumatoid arthritis, said engineers got the lift running again by midday on Saturday.
For the past five weeks, she has been helping those who cannot leave their flats by taking their shopping up to them.
"Our MP Charlotte Leslie got hold of the story and she came around and was horrified about what's been going on," said Mrs Ross.
"Low and behold the men turned up the very next morning.
"I've taken one of the older ladies in it - I took her out of the back of the flats and she was able to wander around.
"Oh, she's so delighted its done - she's stopped being a prisoner."