Queen's Cup Balloon Race 2013 final day under way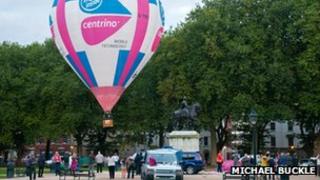 Thirteen teams of hot-air balloonists are racing to the finish in the final day of the Queen's Cup Balloon Race.
The event, which lifted off from Queen's Square in Bristol on Saturday, is the UK's oldest sporting trophy.
Pilots are can land to refuel the balloon and are competing to fly the farthest distance in a straight line from the launch site, by 16:00 BST.
The winner is presented with the Queen's Air Race Challenge Cup, which dates back to 1719.
"This is a wonderful race which tests not only balloonist's long distance flying capabilities but also their tactical skill - working out everything from air traffic, weather changes to refuelling and crew logistics it is, I suppose, similar to the Olympics but for hot-air balloon teams," said Event Director Don Cameron.
By the end of the first day's scoring period (18:30 BST) race organisers The British Balloon and Airship Club (BBAC) said the lead balloons had flown more than 100 miles (170kms).
"The balloons have been landing, refuelling and launching again throughout the day, many with the help of the local residents where they have landed," said Jo Slade, BBAC Chief Observer.
"Pilot Rob Bayly took off from a front garden in Upper Minety in Wiltshire, after the residents had made the pilot and the crew a cup of tea, which they enjoyed with a piece of cake."