Bristol social housing to get solar panels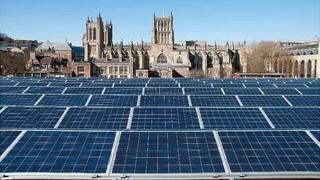 Plans to install solar panels on up to 7,000 buildings in Bristol have been given the go-ahead by the council.
The council cabinet heard on Thursday that £6m, from the Public Works Loan Board, should be used to install panels on social housing and public buildings.
Mayor George Ferguson approved the outlay at a cabinet meeting.
It is the first phase of a £47m project to install solar photovoltaic panels expected to generate 37.6 GW/h of electricity per year, by 2020.
Plans to make Bristol completely solar powered in the next seven years were revealed by Mr Ferguson in June.
'Combating fuel poverty'
But according to the cabinet report, less then a quarter of the city's social housing has the right roof pitch and orientation to be considered for solar panels.
However, tenants in "solar-suitable" housing will benefit from "some free units of solar electricity during the day" while the council receives the income from the feed-in tariff.
"We'll be helping out our tenants and so combating fuel poverty," Councillor Gus Hoyt told the cabinet meeting.
"The estimated costs and savings for our tenants would be about £130 to £260 a year.
"And we [the council] will be making a profit once we pay off the initial costs."
'£6m well invested'
But, according to the council report, installing solar panels on just the city's "council houses" is going to cost £4.2m and take 17 years to recoup.
"It represents significant investment in solar photovoltaic," admitted Mr Ferguson, at the cabinet meeting.
"But it's now become a proven technology, it's more economical and we benefit from the feed-in tariff.
"It's £6m very well invested and will reap profits down the line once the the capital is paid off."
A procurement notice tendering for contractors, installers and suppliers has already been posted by the council and work is expected to begin in January.