Labour's Josie Channer stands down over parking fines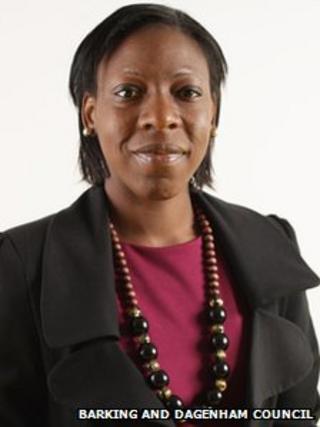 A Labour parliamentary candidate has stood down after it emerged she owed more than £2,000 in parking fines and late payment fees.
Josie Channer accrued the penalties in the London Borough of Barking and Dagenham, where she is a councillor on a committee overseeing parking issues.
She was campaigning to win the Kingswood seat near Bristol.
In a statement she expressed "regret" that she could not "devote the time and resources necessary" to the campaign.
"It has been fantastic getting to know the residents of Kingswood and the local party members.
"I wish them well as they continue to fight for the Labour victory Kingswood deserves and needs in 2015," she said.
'Embarrassing for Labour'
Conservative-held Kingswood is a key marginal seat and one of Labour's top targets for the next General Election.
The area's current MP, Chris Skidmore, said the issue was no reason for Ms Channer to "desert Kingswood".
"While this is embarrassing for Labour, I think Josie Channer should reconsider her resignation," he said.
"It looks bad for Labour members locally who chose Josie as their preferred candidate if she is just going to walk away from Kingswood like this.
"Local people will be disappointed that their Labour candidate is prepared to give up on Kingswood so easily."
Ms Channer, who serves on Barking and Dagenham Council's living and working select committee, was fined 10 times over three years.
'Move on'
She said she believed the charges had been dealt with previously.
"Last year I learned that the charges were still live and had incurred late payment fees so I have contacted the council and agreed a repayment plan to pay off the fine," she said.
Barking and Dagenham Council confirmed that Ms Channer did have outstanding parking fines and fees.
Kevin Beazer, the regional secretary of the Communication Workers Union, campaigned for Labour's second-placed candidate in Kingswood, Rowena Hayward.
He said: "I think questions have got to be asked about when a candidate's selected, if there is anything untoward that is going to come forward.
"It's unfortunate... but it has happened and people will need to move on, hopefully very swiftly, so we can get a candidate in place that tackles the Tory (Chris Skidmore MP) in Kingswood."