Bristol Arena: £27m funding shortfall being negotiated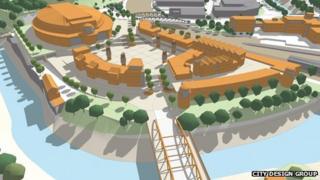 Some £27m of funding is still needed to make the building of Bristol Arena a reality.
City mayor George Ferguson said "friendly discussions" were being held with surrounding partners in the region in a bid to secure the money.
The 12,000-capacity arena is expected to cost £90m and could open in 2017.
A Bristol City Council bid for £40m of government funding for the venue, which will be next to Temple Meads station, was turned down earlier in the year.
City cost
Mr Ferguson said a large chunk of the funding would come from rent payable, or management fees, from the operator.
The rest, he said, would come from borrowing, with £25m already agreed and a further £27m still being negotiated.
"We are in friendly discussions about that with our surrounding partners in the West of England," he said. "This is a regional project.
"It will only cost us, the city, under £10m if we pay it off over seven years. It will cost up to about £15m if we pay if off over 15 years."
The authority has also published the results of a business case which it paid for into the economic benefits of the city arena, as well as potential models of how it could be operated.
Nearly 400 new jobs would be created and over £150m injected into the regional economy, the business case suggests, although the full benefits would only be fully realised over a 25-year period.
Two ways of running the arena have also been identified, with one option to lease it out fully to an operator and the other for the council to retain some ownership alongside another manager.
The council still needs to approve the spend. Its cabinet plans to discuss a full report in January before it goes before the full council for a final decision in February.