Bristol bus fares reviewed after campaign started by Daniel Farr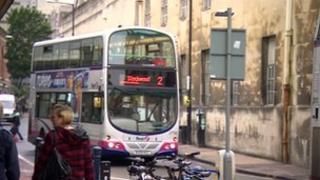 Bristol's biggest bus operator is to cut some of its fares in the city following a protest started by one man.
Graphic designer Daniel Farr, 33, said the fares were "too high" and the service "pretty second-rate".
He organised an e-petition calling for cheaper fares. As a result First Bus asked the public what they thought and 71% said fares were "very expensive".
Mr Farr said he wanted to ensure First "don't rest on their laurels" following the fare review.
From 3 November, children aged between five and 16 will get half-price fares on all single tickets within the inner zone.
Those aged between 16 and 21 will get a 30% discount on all single tickets within the inner zone - whether or not they are students.
There will also be cheaper prices for people travelling shorter distances, allowing passengers to travel for up to three miles for £1.50.
First has also reviewed its fare zones.
The three existing zones will be replaced by an inner (up to six miles from the city centre) and outer zone (six to 12 miles).
First said the new fare structure offered "greater transparency" for its customers.
"The cost of the journey is based solely on the distance covered [based on the route the bus takes]," Paul Matthews, managing director of First West of England, said.
"I am delighted... 90% of our customers will pay an average 27% less for single fares than they currently do."
'Not rocket science'
Mr Farr said the move was "definitely a step in the right direction".
"They've promised things like smartcards before and not delivered them so now they've announced it, we can hold them to their words," he said.
"It's not rocket science - if you have lower fares more people will use the bus."
Mr Farr's petition was signed by city mayor George Ferguson.
Mr Ferguson said: "The outcome is brilliant for children, for school children in particular, who I hope will get out of their parents' cars on to the buses and help free up our roads which are further congested by trips to school."
The Make Fares Fair campaign was supported by Bristol West MP Stephen Williams and Charlotte Leslie, Bristol North West's MP.
The campaign was also one of Labour's Bristol-wide pledges in the May 2013 local election campaign, launched by Shadow Transport Minister Maria Eagle.