Bristol farm's pygmy goats 'attacked by dog'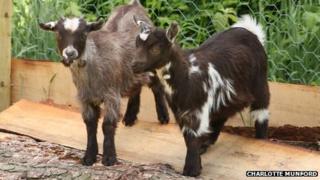 A pygmy goat has died and a second has been injured in a suspected dog attack at a community farm in Bristol.
Bramble Farm workers in Knowle said on Twitter wire at the smallholding had been cut on both the main farm gate and the goat enclosure.
"Second goat shows signs of dog attack. Did someone deliberately set dogs on them? Sick cowards" read the tweet.
The two pygmy goats were being kept as part of a funded education project to get children involved with animals.
'Disgusting act'
Amanda Swainger said her daughter Chantelle, who runs the goat project, was devastated following the attack.
The family is now appealing for information from any members of the community who might have further answers.
Mrs Swainger said it was too early to say whether her daughter would continue with the project.
Avon and Somerset Police officers have visited the farm but a spokesperson has so far been unavailable for comment.
Cat Jameson, another farmer at the urban site, wrote in an online appeal: "We are all understandably very upset at this disgusting act of cruelty.
"Please show your support to Chantelle, and the farm in general, by passing on any information. Let's get these idiots."
Bramble Farm is a self-funded community initiative that uses reclaimed waste land to grow food in a sustainable way for the families involved.