Bristol baby death inquest: Superbug source 'unknown'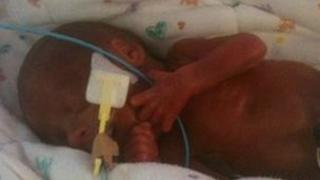 The source of a superbug which killed a premature baby is unclear, an inquest has concluded.
Oliver Hannon died two weeks after he was born prematurely after contracting Pseudomonas aeruginos in August 2012.
His parents told Avon Coroner's Court they had concerns about hygiene standards at Southmead Hospital's neo-natal intensive care unit.
But the coroner recorded a narrative verdict after a hospital investigation could not trace the source of the bug.
Oliver's mother Jenna Hannon said: "I would see some nurses going from one baby to another without even washing their hands, or using hand gel, and no gloves.
"It just doesn't seem to be adequate, the fact that us as parents are being told to wash our hands and they're, 'look, we'll do this'.
"That's how you get infections through to a baby - they're in an incubator for a reason."
The hearing also heard three other babies were being treated for the superbug during the eight days Oliver was there.
But the hospital investigation found it was a different strain to the one Oliver contracted and so no cross-contamination was possible.
The investigation also said hygiene standards were adequate at the baby unit.
Since Oliver's death, procedures at Southmead have been tightened up and there is more use of sterile water and water filtration systems, the hospital said.