Bristol retirement flats residents' lift still broken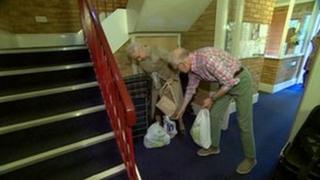 Elderly people who have been "trapped" in flats in Bristol for more than a month because of a broken lift remain stranded despite promises to fix it.
The residents, unable to use the stairs at the Ferndown Grange retirement complex, near Henleaze, have been stuck since August.
Peverel Retirement had assured them it would be fixed by last Friday.
A spokesman apologised and said the lift would be "repaired as soon as possible".
'Tremendous problems'
Mike Kemp, whose 81-year-old mother is a resident, said the company's apology was "meaningless".
He said his understanding was the parts required to repair the lift were now obsolete and no longer made.
Mr Kemp said: "My frustration is on behalf of my mother who has terminal cancer and diabetes and she is not very well at all.
"The last few weeks have seen a severe deterioration in her health. A working lift gives her freedom of choice - to go out to the garden or to get out easily to the car so I can take her for a ride."
Another resident, 78-year-old Judy Ross, is able to manage the stairs but has rheumatoid arthritis.
For the past five weeks she has been helping those who cannot leave their flats by taking their shopping up to them.
She said: "Three people are trapped which is causing them tremendous problems. But the rest of us are having to trudge shopping up and down.
"To me it's 30 steps and that's not much fun when you're elderly."
Kathleen Shortman, 89, one of the residents who is stuck, said she had been suffering with toothache for the past two weeks.
She said: "What's the use of me phoning up and making an appointment with the dentist when I don't know when the lift is going to be repaired."
A Peverel Retirement spokesman said the company "apologised sincerely" to the residents.
"We are extremely disappointed the lift at Ferndown Grange has not been repaired, despite previous reassurances from our lift provider," he said.
Margaret Waters, from the company, said they had been forced to wait for a part to be specially manufactured.
"As soon as it's ready I will make sure it is fitted immediately. It is not an old lift, we do have it regularly serviced.
"We looked at installing a temporary stair lift but that was not possible because of the shape and location of the stairs."
Ms Waters said the company would look at compensating people who had been affected.