Five Bristol council directors quit jobs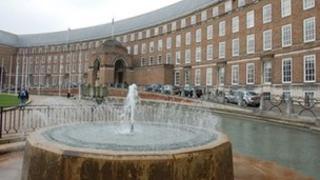 About a quarter of the senior managers at Bristol City Council are quitting their jobs.
BBC Radio Bristol has learned some have taken voluntary redundancy as the council aims to save £300,000 a year from its top management pay packet.
The directors of finance, major projects, education, communications and strategic commissioning will all go.
Public sector union Unison said it did not think losing so many officers would benefit Bristol.
Each of the departing service directors earn about £80,000 and, while the director of finance must be replaced by law, it is not clear if any of the others will be replaced.
Three have left in the past two weeks, but it is not clear when the remaining two will go.
The council would not comment on the size of any of the redundancy payments.
'Expensive broom'
It said in a statement: "We are changing to become a smaller but more efficient organisation and, along the way, that will mean agreeing sensible severance packages with employees when it's appropriate.
"We have recently agreed a number of senior officers can leave the council and in all instances none of the severance arrangements are enhanced or more than what employees would normally be entitled to contractually.
"This is normal business practice as is the condition that we will not provide a commentary on individual cases."
Steve Mills, Unison's Bristol representative, said: "We are astounded really, that's quite a whack of the senior team going all in one week.
"I don't think it's for the benefit of Bristol myself, at the moment, I will wait to see who Nicola Yates [the City Director] replaces them with.
"She's just joined us after receiving a massive payout herself from Hull City Council. She survived and it seems like she wants a very expensive new broom to clean out some of the old officers and get her new people in."
Hull City Council has refused to give a reason for Ms Yates' departure in July last year.
It has been declared in the Hull's annual accounts that she received a pay-off of about £242,677 as "compensation for loss of office" which has caused anger from unions and the Taxpayers Alliance.
The Alliance says on its website: "This is all part of a broken culture that accepts secrecy as the norm, and that accepts large pay-offs to go elsewhere as a price worth paying."
Ms Yates was asked to comment, but did not respond.