Bristol midwives 'dismissed' mum's fears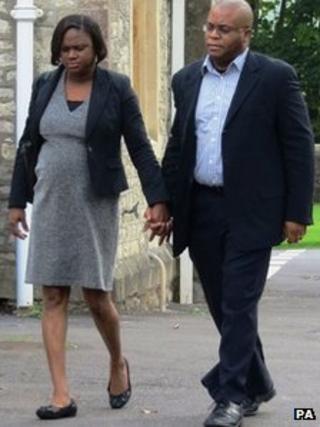 A mother has claimed she was dismissed as "paranoid" by midwives just hours before her newborn son died.
Natasha McDowall's son Jared died at St Michael's Hospital in Bristol two days after he was born by Caesarean section in January 2012.
An inquest heard she complained to nurses that her son was reluctant to feed and was crying unusually.
Avon Coroner Maria Voisin delivered a narrative verdict and said she would recommend improvements at the hospital.
Mrs McDowall, 37, of Longwell Green, Bristol, told the inquest she was "sick with worry" about her son's condition but was treated by midwives as just an "anxious new mum".
Hours later on 17 January last year, she discovered her son was floppy and lifeless in his cot. Resuscitation attempts were unsuccessful and he was pronounced dead.
The inquest was told an investigation into his care identified four failings, including staff not recognising his poor feeding and unusual crying.
Observations 'normal'
The coroner was told it was not possible to ascertain an exact cause of death, but Jared could have suffered from hypoglycaemia or low blood sugar, which may have triggered his death.
Ms Voisin said she considered reaching a conclusion of neglect but heard no evidence of "gross failures" in Jared's care by hospital staff.
Instead the coroner returned a narrative verdict.
"It is of note that the recorded observations were generally normal and staff did not have concerns about Jared's progress," she said.
"The parents did have concerns about his feeding and his crying and raised these with staff. The staff said his level of feeding was typical for normal babies and not of concern to them.
"In relation to his crying, they did not believe it caused any concern and were reassured when his observations came back as normal."
Instructed lawyers
Mrs McDowall told the inquest: "I feel completely let down by the medical professionals at St Michael's Hospital, particularly the midwifery team who failed to listen to my concerns."
Sarah Windfeld, head of midwifery at the University Hospitals Bristol NHS Foundation Trust, said charts now featured "unusual crying" as a result of Jared's death.
Observations had also been increased, there was more supervision, extra training and support had been offered to staff and clearer ways to escalate concerns introduced, she added.
Mrs McDowall and her husband, Shaun, 43, have instructed lawyers to investigate Jared's death.