Former Cadbury's site: permission granted for hundreds of homes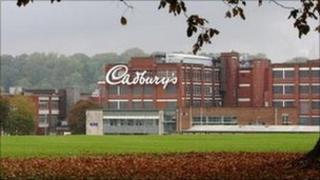 Plans to build hundreds of homes on the former Cadbury's factory site in Keynsham, near Bristol, have been given the go-ahead.
Bath and North East Somerset Council (Banes) agreed full planning permission for 270 homes but with conditions.
Site access will also be reviewed - developers Taylor Wimpey want a single entrance but Keynsham Town Council say this will cause "traffic chaos".
The Somerdale factory closed in January 2011 with the loss of 600 jobs.
The meeting of the Banes development committee granted outline planning permission for a further 430 homes, a 60-bed care home and a primary school.
Banes councillor Brian Simmons said that over the next few years the town was likely to have another 1,000 homes built - increasing its population by about a third.
He said Keynsham as a whole needed to be assessed for transport infrastructure "not just the Cadbury's site".
"We want a complete analysis of the [extra] traffic this will cause especially in relation to the High Street and Bath Hill - we live here and know it blocks up every day. This is our one chance to get it right," he added.