Avon and Somerset Chief Constable Nick Gargan changes force culture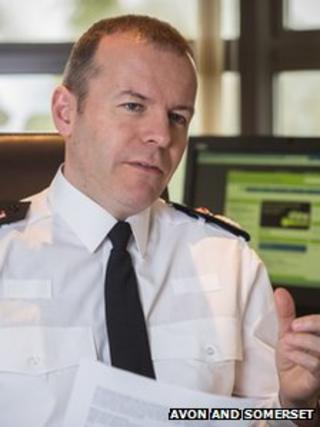 Chief Constable Nick Gargan is impatient for change and is not afraid of becoming unpopular in pursuit of it.
Just six months into his job, he is embarking on a crusade to transform the culture at Avon and Somerset Police.
His vision for a revised force includes a radical direct-entry scheme giving would-be chief inspectors the chance to skip promotion through the lower ranks.
But his proposal, just one of several ground-breaking reforms he has planned, has already riled some.
The Police Federation called it a "half-baked idea", claiming "people who have not seen a dead body" would not earn the respect of colleagues.
But Mr Gargan is pushing ahead - wanting officers to "think and speak differently" - and this means changing the workforce.
At 46, he is comparatively young for a chief constable, having joined Leicestershire Constabulary in 1988 under a graduate entry scheme.
Policing pilot
He is clear and determined in conveying his vision; transparency, integrity and respect are recurring themes in his conversation.
"The attitude of policing, is sometimes of an organisation that is 'doing policing to people' - not for people or with people - and that has implications for respect," he said.
One of his reforms would see a direct-entry pilot scheme for existing non-officer police staff to take jobs at inspector or chief inspector level.
He wants his force, and the direct-entry scheme in particular, to serve as a policing pilot project for the Home Office.
Police staff, Mr Gargan said, with an "extensive knowledge of policing" should be able to move across.
"On the other side of the police force, we have people we used to call civilians - they don't have as clear a career structure as police officers.
"I'd like to increase the diversity of leadership and, rather than wait for today's constables to reach a position of seniority in 15 years, I'd like to move a few in straight away," he said.
But the scheme has proved unpopular with the police union.
Kevin Phillips, of the local federation, said they were "dead against it".
"Why haven't we got confidence in the officers currently serving within Avon and Somerset to be promoted to these posts?
"We all know if you are going to be a senior officer, it's better that you have experience of what it's like out on the street.
"It's that experience that fellow officers will deem as essential to have confidence in senior officers."
'Mixed results'
The Home Office has not yet confirmed whether it will take up Mr Gargan's offer but he hopes the direct-entry pilot scheme will be an "interim step" and the logical progression to "open it [recruitment] up to people from the outside".
When pushed on why he wants to change the culture, he alludes to finding a workforce that "represents the community in all manner of ways".
Despite a lot of "good work" to increase representation of visible minorities within the force, he says, there had been, at best, "mixed results".
"Frankly we're not always fully successful. We've edged in the right direction but we've never made a real breakthrough. As the population of Bristol gets more diverse, we lag further and further behind."
The words he hears most often when people complain about police services are "lazy" and "rude and dismissive". But he said this only true of a few officers who are letting the majority down.
"Then we create our own language, we almost make up our own words. We have an excessive reliance on acronyms and initials," he said.
And this is one gap between police and public that Mr Gargan wants to bridge.
'Impatient to change'
His vision includes giving the public a say in who actually joins the force.
He said: "I also want the public to have a really big say in what a successful policing service looks like and therefore what a good police officer should be.
"So rather than our current process, in which the people who describe what is 'good' are all internal, we're going to start including members of the public in selection processes.
"I want to recruit people who think a bit differently, who've really had to think long and hard about policing - who aren't sure that policing is for them - who are sceptical," he added.
"This is an organisation that's impatient to succeed, impatient to change - that sees that these are challenging times but doesn't see that as a reason for being downbeat."
In a bid to bring about this radical idea Avon and Somerset's most senior police officer has now commissioned an independent review of recruitment, which he hopes will begin by the end of the month.
Whether he achieves all his stated aims or not, it is clear Nick Gargan is not prepared to procrastinate on his project.