Lost Beach Boys tracks discovered by fan in Bristol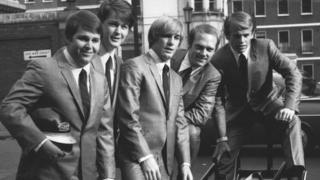 A rare copy of a Beach Boys performance for the BBC in 1964 has been discovered by a Bristol fan.
Ian Gane, from Shirehampton, used a reel-to-reel tape recorder to record the band performing a BBC radio session almost 50 years ago.
Mr Gane said he had now sold the tapes of the seven-track session to the band's record company, Capitol Records.
He said the record label had given him the "price of a good holiday" in exchange for the songs.
"I've had them on reel-to-reel tape for [nearly] 50 years and obviously listened to them occasionally," said Mr Gane.
"But when the band were doing their 50th anniversary and new album as well, I thought, 'I've got to do something with these recordings'."
He contacted BBC radio presenter Geoff Barker who said he was "absolutely stunned" when he listened to the recorded tracks. A recording of the band's track "Hushabye" was aired on Mr Barker's show.
Mr Barker said: "They did seven tracks for the programme, but the BBC archive didn't have them.
"This often used to happen - things would be wiped, tapes would be reused as tape was expensive."