Yate 'misled' over local outpatient appointments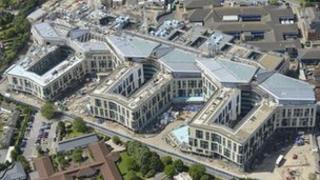 Health officials have been accused of misleading people about localising community services in South Gloucestershire.
Steve Webb MP said there had been little sign of North Bristol NHS Trust meeting its pledge to increase outpatient appointments in Yate.
The pledge was made to balance the downsizing of Frenchay Hospital when a "super hospital" opens at Southmead.
The trust said changes were being made and the criticism was premature.
The £430m hospital at Southmead - three miles further from Yate than Frenchay and without a direct bus route - is not due to open until next year.
But Mr Webb, Liberal Democrat MP for Thornbury and Yate, said community services needed to be localised now.
He obtained figures from the trust via a Freedom of Information request which showed out of 23,000 outpatient appointments in 2012-13 for people in the Yate/Sodbury area, just 620 were at Yate Health Centre.
The rest took place at Frenchay or Southmead.
'Shiny new hospital'
Mr Webb, who is also Pensions Minister, said: "When the decision was taken that Frenchay would more or less close, a lot of people who live in the Yate/Sodbury area were told not to worry because, 'we will do lots of outpatients locally in Yate'.
"But the reality is very few appointments are being done in Yate and people are going to have to travel much further to Southmead.
"There's been a new, shiny centre in Yate for several years now. There's no need to wait for Southmead to be open and running before consultants come out and see people in Yate."
Mike Coupe, the trust's director of strategy and planning, said: "This is about phasing, we are not saying we're not going to do it."
He said: "North Bristol NHS Trust recognises the desirability of providing services on a local basis whenever possible.
"The trust recognises that there is potential to increase service provision in Cossham, Yate and Clevedon and will be working with commissioners on modelling the future balance between Southmead Hospital and local units over the next few months.
"The immediate priority, however, is to plan and deliver the occupation of the new Brunel building (at Southmead)."