Broken lift 'traps' elderly Bristol flat residents in homes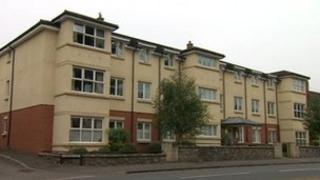 Three elderly people in a Bristol flat complex have been "trapped" in their homes for almost a month because of a broken lift.
Some residents at Ferndown Grange retirement flats, Eastfield, said the management company, Peverel Retirement, was not doing enough to fix it quickly.
They said one resident had missed her great-grandson's wedding because she could not get out.
Peverel said it was waiting for specialist equipment to fix the lift.
In 2011, residents of Peverel-run retirement apartments in Southport said they felt marooned when they were without a working lift for two weeks.
'Breathless'
Ferndown Grange resident Judy Ross said: "Three people are totally trapped in their flats.
"One wanted to go to her great-grandson's wedding. She couldn't go.
"Another one next door to me has a disabled son who visits her in a wheelchair. He can't get up to her and she can't get down to him.
"The rest of us are having to lug our shopping up the stairs, which is 30 steps and not much fun when you're elderly and several of us are disabled.
"We do feel that they don't understand the problems that we have got with the fact the lift is not working all this time."
'Apologise for inconvenience'
Sheila Parsons, one of the "trapped" residents, said: "I'm 86 and in fairly good health but I can't tackle the staircase.
"If I start to go down I have vertigo problems. Coming back up I'm just breathless and I just won't do it any more in case I have a heart attack.
"Two jobs I used to be able to do was take rubbish out to the bin myself, independent, and do my own shopping.
"I've had to employ someone to do all my shopping for me."
Kathleen Shortman, 89, needs to use a wheelchair or her walking frame to get about.
She said since the lift has been out of order she has not been out or able to see her sons, who also have mobility problems, since the end of August.
"I object to not being able to see my sons," she said.
"I can't go out unless my youngest son puts me in a wheelchair and takes me out - well how can you get a wheelchair out from the top floor with the lift being out of action?"
Peverel Retirement said in a statement: "We apologise for the inconvenience caused to customers at Ferndown Grange.
"We are working hard with our maintenance company to fix the lift. Unfortunately, a specialist piece of equipment is required to mend the lift, which needs to be manufactured specifically for Ferndown Grange.
"In the meantime our onsite house manager will continue to keep customers advised of progress and assist wherever possible.
"We'd like to thank customers and their family members for their patience."