Anger over Bristol Parkway railway parking shortage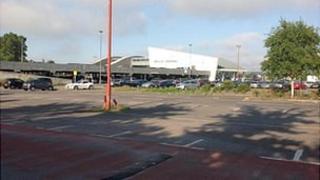 Motorists in Bristol are complaining of a shortage of parking spaces while work is carried out to build a multi-storey car park at Parkway station.
People are having to use nearby Parkway North but the car park does not have enough spaces forcing some to park illegally outside of the marked bays.
On Wednesday, Craig Sear paid to park but was fined £50 for parking outside a bay along with 40 others, he said.
South Gloucestershire Council said it had a duty to enforce parking rules.
Stressful search
Speaking of the car park at Parkway North, Mr Sear said: "It is quite frustrating when you are trying to catch a train first thing in the morning and it is stressful not being able to park, it's ludicrous."
The new multi-storey at Parkway is set to be completed by the end of next March by Network Rail to create an extra 710 spaces.
Mr Sear said: "Cars were parked around the perimeter which wasn't obstructing any other cars or causing any other problems so I did the same.
"I paid my £5 for the day and went back to the station. I came back in the afternoon from London and I'd been ticketed as well as 30 to 40 other cars, which beggars belief."
He added that he did not want to park in residential areas as it would upset residents and the council's approach was "profiteering and entrapment".
The council has said since July, from when work started at Bristol Parkway station, it has issued a total of 74 parking fines.
A spokesman said motorists could appeal any fine handed out by the council.
"There are details of the appeals process on the back of every ticket issued, and we will consider each case on its own merits," the authority said.