Protest over proposed St Werburghs allotment sale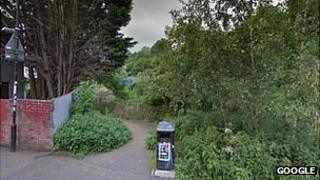 Up to 60 allotment holders have held a protest in Bristol to try and stop their plots being sold for development.
The site, at Lynmouth Road in St Werburghs, was owned by Scout Enterprises Ltd before it went into administration last year.
Plot holders are now worried they will be evicted from land that has been worked "off and on" since World War I.
Administrators say they have a duty to the company's creditors to "realise any value" they can for the firm's assets.
Grant Thornton UK LLP was appointed as liquidator after Scout Enterprises Ltd went into administration.
'Highest bidder'
Since then, according to Val Bamber, the treasurer of the Lynmouth Road Allotments Association, the land has been put up for auction despite a "very generous offer" from Bristol City Council to secure it as statutory allotments.
"We just want to stop it going to the highest bidder and being developed," Ms Bamber said.
"Over 2,400 have signed a petition to preserve the allotments and we have statements of support from all the key local environmental groups."
But in a statement, a Grant Thornton spokesman said the only way to ensure it obtained "market value for the land" was to put it into an auction.
"Our agent formally invited all parties who have shown an interest in the land to make best and final offers for the land ahead of the auction, so a sale could be concluded outside of an auction process," he said.
"While Bristol City Council has made offers for the land, we need to conclude the formal process before agreeing a sale with any party."