Gromit spotters queue early for last chance to see statues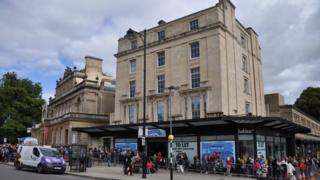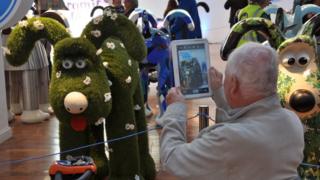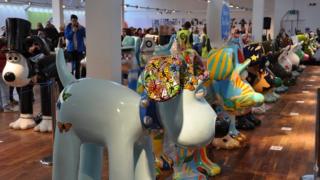 People started queuing in the early hours for a last chance to see all 80 Gromit statues that made up an arts trail in and around Bristol.
The statues are all under one roof for the next five days in the former Habitat store on Queens Road as part of the "Greatest Dog Show on Earth".
They will be auctioned on 3 October to raise money for Bristol's Children's Hospital.
One fan arrived at 06:00 BST for the exhibition which opened at 09:00.
The statues, decorated by well-known celebrities and artists, were on display across the city since June and were removed last week.
More than 200,000 people collected the map for the Gromit Unleashed trail.
While the majority of the sculptures were based around Bristol, there were others at London Paddington station, Westonbirt Arboretum in Gloucestershire, Cheddar Gorge in Somerset and Hawkesbury Upton, South Gloucestershire.
All money raised will go towards Wallace and Gromit's Grand Appeal which supports Bristol's Children's Hospital.
Nicola Masters, from the appeal, said: "The response to the trail has been amazing. We've had hundreds and thousands of people do the trail.
"It's absolutely lovely to see them altogether for the once, only and final time that they'll all be together before the auction."
The exhibition will be open from 09:00 to 18:00 until Friday 20 September and open 09:00 to 19:00 on 21 September and on 22 September from 11:00 to 17:00.