Bristol pound accepted for council tax payments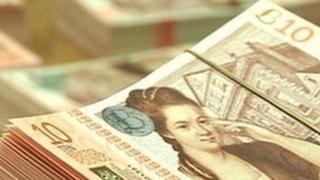 Council tax payments in Bristol will soon be able to be made using the Bristol pound.
The currency, which is on par with sterling, was introduced last September to ensure money earned in the city was spent on local businesses.
Bristol City Council said people would also be able to use it to make payment for other services in the future.
More than 600 Bristol firms have signed up to the currency, making it the UK's largest alternative to sterling.
At present the local authority accepts business rates in the currency, and last year £66,000 was taken in that way.
Assistant mayor, Geoff Gollop, said the decision meant more payment options for local people.
"As the Bristol pound goes from strength to strength we'll be working closely with them to celebrate, promote and encourage the use of one of Britain's most successful local currencies," he said.
Last week bus operator First announced it would accept the Bristol pound on its fleet in the city.
It is thought to be the first bus company in the UK to sign up to a local currency scheme.
A company spokeswoman said it was too early to know how many people had used the Bristol pound to pay for their travel.