Highwood Road closure: hundreds sign petition against bus-only lane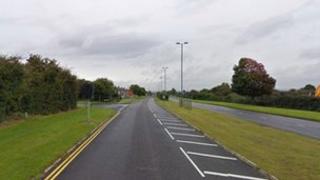 An online petition calling for a council to reverse plans to permanently close a road in north Bristol to cars has gathered more than 800 signatures.
Highwood Road in Patchway was turned into a bus and cycle route last October, as part of an 18-month trial.
Earlier this month a council meeting to discuss the move was cancelled as more than 200 protesters turned up.
The petition is calling an end to the experimental traffic order which created the two-way bus lane.
Some local residents claim it is causing jams on nearby roads and want the road turned back into a dual carriageway.
'Safety concern'
Councillor Sam Scott, from Patchway Town Council, said there had been a number of near misses on Coniston Road - which people are using as a detour.
"We've also had HGVs trying to use Coniston Road because their sat-navs have directed them that way.
"They're having to negotiate parked cars, pedestrians and cyclists - it's a real safety concern.
"It's also had an impact on the Roadway Road shops with people not being able to get there."
South Gloucestershire Council said the bus route was a "crucial element" in its £102m MetroBus scheme - part of the Greater Bristol Bus Network plan.
"We've already seen Mayor George Ferguson change the route of the MetroBus [around Bristol Harbourside] - so there's no reason why this bit can't be looked at as well," Mr Scott added.
The decision will now be taken at the next full meeting of South Gloucestershire Council on 16 October, which will be held at a larger venue where "all those who wish to attend, and make representations, are able to do so" a spokesman said.