Stoke Gifford bypass plan is approved by councillors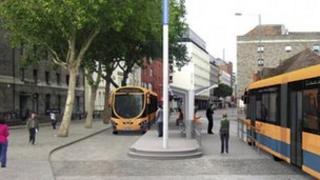 Plans for a bypass around Stoke Gifford in South Gloucestershire have been approved by councillors.
The route will form part of the £102m North Fringe to Hengrove bus "rapid transit" scheme, which aims to improve public transport.
The one mile (1.6km) road, will link Great Stoke Way at the Parkway North Roundabout to the Avon Ring Road close to junction 1 of the M32.
South Gloucestershire Council's Brian Allinson said the bypass was "vital".
He said traffic problems in the area have been a "major bone of contention" for residents for years.
Work on the £14m scheme is scheduled to begin in late 2015, with completion expected in 2017.