Bristol Rovers Frenchay move: Judicial review requested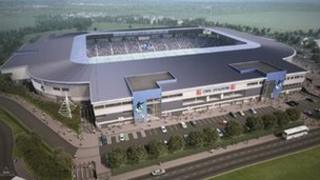 A judicial review has been requested over Bristol Rovers' plans to move from the Memorial Stadium to a new ground.
The football club said the legal application, by traders and residents, questioned the validity of planning permission granted to Sainsbury's for the Memorial Stadium site.
The club says it needs to sell its ground to Sainsbury's to fund the move to a 21,700-seat stadium in Frenchay.
A High Court judge will now decide whether to proceed with the review.
The club said it was making representations to the court and urged its supporters to "stay calm".
'Hundreds of jobs'
It said it hoped to get a decision on whether the review would proceed in 10 to 12 weeks.
A spokesman said: "Whilst we are massively disappointed that a JR [judicial review] application has been submitted, we urge supporters to stay calm as we work through this with our partners."
Rovers chairman Nick Higgs said: "The progress of this project is being held up by a small band of people who are trying to find reasons to stall the process or cancel the process.
"They're holding up the fact that it's going to create hundreds of new jobs, full-time and part-time, a number of temporary construction jobs, social housing, a new wonderful facility including community space, parking for Gloucester Road which the traders are crying out for.
"Then the spin-off of that is the stadium for the wider Bristol community and, on top of that, further investment of up to £200m in other projects that come off the back of that."
In January, councillors gave permission for the club's current home to be turned into a Sainsbury's supermarket.
But last month Bristol City Council was served with a formal notice of intent for judicial review of that decision.
'Vigorously defend'
The application has been submitted by TRASHORFIELD Limited (Traders and Residents Against Sainsbury's Horfield).
Green councillor Daniella Radice, who is a member of the group, said the potential loss of business to Gloucester Road traders was one of the reasons behind their action.
"It's been shown to take £7.7m out of the Gloucester Road, that was in the studies for Sainsbury's," she said.
Fellow Bishopston councillor David Willingham said he supported the group's action and the majority view in his ward was that "a supermarket would be damaging".
The Liberal Democrat said "significant changes" were made to the plans late in the day which the public had not been consulted on.
"They didn't really engage with the community and putting the largest supermarket in north Bristol on a single carriageway road is just going to cause large amounts of chaos," he said.
A council spokesman said: "Of course we will vigorously defend any such challenge, and are confident in our position, but will not give a running commentary on these matters."
Bristol Mayor George Ferguson tweeted: "JR blight threatens @Official_BRFC and #Bristol economy. Tail wagging the dog. All need to accept decision & move on."
Communities Secretary Eric Pickles approved the planning application to build the Sainsbury's supermarket in March.