Bristol Henbury Loop: 'Lack of political will' hampers project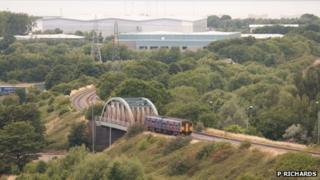 Campaigners hoping to reopen the Henbury Loop railway line in north Bristol say a "lack of political will" is hampering the project.
At present, the line carries freight between Filton and Avonmouth. It closed to passenger traffic in 1964.
A meeting of transport leaders from the greater Bristol area will be told the business case is dependent on the redevelopment of Filton airport.
Without this there would not be enough passengers on the route, a report says.
Julie Boston, from the Friends of Bristol Suburban Railways, said under the current plan - part of the Bristol Metro project - any service on the Henbury Loop would not start until 2023.
'Signalling difficulties'
"We see the improvements as a step-by-step process to arrive with one train running on the route from May 2014.
"What we are asking today [Wednesday] is for a second train because the loop goes in two directions," she added.
Asked what was holding up services on the Henbury loop, she replied: "In my view it's the lack of political will."
Chris Sane, from South Gloucestershire Council, said priority was being given to phase one of the Bristol metro project - Portishead to Bristol Temple Meads - followed by phase two, which includes the Henbury section.
"For services to operate on the Henbury line - which we are told by Network Rail isn't good enough for regular passenger services - they need special approval.
"As I understand it, there are difficulties with the signalling so a special provision is [being] made to run passenger services."
Filton airport closed at the end of 2012 and there are plans for 5,700 homes along with 50 ha (120 acres) of employment land.