New vet school dairy farm opens at Bristol University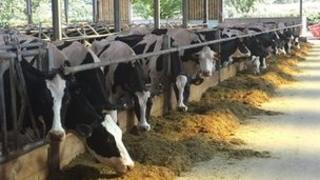 A new £2m dairy farm for the training of vets has opened at Bristol University's School of Veterinary Sciences.
The college's 250-acre Wyndhurst Farm at Langford, North Somerset, has been modernised and will cater to 600 students.
Professor Jo Price said the new unit would enable students to be taught in a "world-class facility".
BBC Countryfile's Adam Henson opened the centre on Wednesday morning.
The farm has been designed to ensure high animal welfare standards, and will house more than 200 cows and a modern milking parlour.
The dairy herd will be housed in sand bedded cubicles, with parts of the floors covered in soft rubber to protect the cows' feet.
When housed, cows will be fed a total mixed ration using grass, maize and whole crop wheat silages grown on the farm.
The facility will also be used to support research and the development of veterinary surgeons, farmers and others involved in the dairy industry.