Bristol cycle track idea could shut Baldwin Street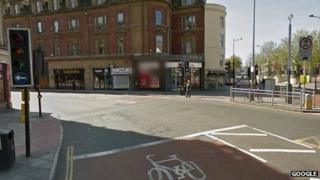 Campaigners hoping to make the centre of Bristol more pedestrian and cycle-friendly are proposing closing part of Baldwin Street to traffic.
The city council is consulting on extending the Welsh Back cycle track along Baldwin Street - separated in part from other traffic.
But Living Heart Bristol says it has reservations on the safety of the plan.
Councillor Peter Abraham said while he supported pedestrian-only streets, Baldwin Street was not the right place.
'Humped crossing'
The Conservative said Baldwin Street was an artery for through traffic.
Mr Abraham has been campaigning to close nearby King Street, which he says could become a vibrant public space with little impact on traffic.
"We've got to think about this properly... what would help the cyclists better is [closing] Colston Street - it's not really necessary to through traffic at all.
Bristol City Council says it wants to make Baldwin Street safer for cyclists and to address the "large number of crashes" at the Queen Charlotte Street junction.
It proposes to extend the existing cycle track at Welsh Back and take it across the junction via a humped crossing.
Steve Melia, from Living Heart, is proposing closing Baldwin Street between The Centre and Marsh Street, and putting a short section of cycle lane in.
"We want to see all vehicles be able to reach their destination in the city centre but to divert the through traffic."
Living Heart for Bristol's website says the group "aims to improve the central areas of Bristol and create new public space by diverting through traffic".