Bristol City stadium: Ashton Vale town green inquiry postponed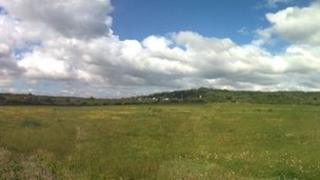 A deal between Bristol City FC and campaigners against the club's new stadium plans could go ahead after the council deferred a planning inquiry.
The deal would have been scuppered if October's inquiry had not been postponed, the BBC understands.
The club was given permission to build on land at Ashton Vale in 2009, but this was blocked by protesters who bid for it to be designated a town green.
Bristol City FC now plans to redevelop its existing ground at Ashton Gate.
The League One football club, which was granted permission to build a 30,000-seater stadium at Ashton Vale four years ago, agreed with campaigners last week that it would not build a new home - as long as it was allowed to redevelop its existing ground.
This would then depend on two other planning issues being agreed - the postponement of the planning inquiry into the town green proposal and the granting of planning permission, in November, to redevelop the existing Ashton Gate site.
The land at Ashton Vale will be split in two - with half being given over to housing and the other half designated as a town green.