Bristol council tenants in arrears 'may be evicted'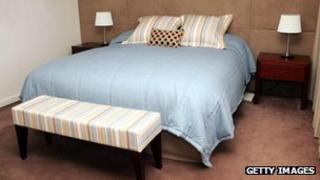 Council tenants in Bristol who have fallen into arrears due to housing benefit changes may have to be evicted, the city's mayor has admitted.
In March, George Ferguson said those adversely affected by the "spare room subsidy" would not be moved.
But a cross-party report saying a no evictions policy was "unsustainable" has been supported by the mayor.
Mr Ferguson promised to make a final decision on the issue at the next meeting of his cabinet.
'Not fair'
About 3,500 city council tenants are affected by the benefit changes.
Before the tax came into force, 40% of those tenants were in arrears but this has risen to 70% - a rise from 1,392 tenants in April to 2,211 in June.
The council is now owed £696,000 in arrears.
The working group was set up in March in response to the mayor's statement that tenants in arrears would not be evicted.
Mr Ferguson said this policy was only a "temporary measure" while research was being carried out.
But Labour's Parliamentary candidate for Bristol West has urged the no evictions policy to continue.
Thangam Debbonaire said evicting people was "not fair" adding that "it costs us over a £1,000 to evict someone, £5,000 to re-house them, [then] £3,000 to re-fit the houses we've evicted them out of".
She said these costs would eventually be paid by Bristol residents.
Bedroom definition
Both sides agreed there was a lack of smaller council properties in the city for people to move to.
The cross-party group found the no evictions policy was unsustainable for a number of reasons.
It said leaving people in arrears would stop tenants from trying to find a solution - and would lose the council significant income.
Councillors also found it was impossible to distinguish between those affected by the new tax who could not pay, those who were unable to pay because of other reasons and those who had simply decided not to pay.
The council has also been recommended to change its definition of what a bedroom is.