First defends Bristol bus changes ahead of vote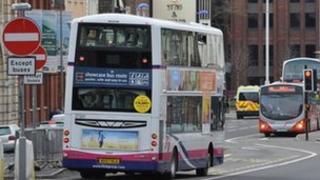 Bristol's biggest bus operator has defended changes to its services ahead of a no confidence vote in it.
Conservatives on the city council secured the vote of no confidence in First Group for Tuesday, saying the public was not consulted.
First's interim managing director, Paul Matthews, said feedback from its consultations found "the bulk of service changes" were positive.
He said the motion put forward by the councillors was "disappointing".
First Bus re-routed several bus services, re-numbered various routes, changed timetables and increased some late-night travel from the start of September.
Motion 'disappointing'
Mr Matthews said: "It's my job and the job of the team to try and make sure we can overcome some of the things that people don't like.
"We've just concluded the fares consultation, so we are trying to address the value for money.
"We recognise we can always get better for reliability which we are trying to do and we are making progress, And in terms of some of the service changes coming in, the bulk of which are positive."
The no confidence motion will be heard at a full council meeting.
Mr Matthews said it was "disappointing" the motion had been put forward as the firm had a "good working relationship" with the city council.
He said: "We need to work together because we both need to achieve what we both want - we all want more people to be able to travel by bus Bristol.
"That's in our commercial interests, it's in the interests of the city council to try to encourage more people out of their cars."