Keynsham sculpture proposal rejected as 'eyesore'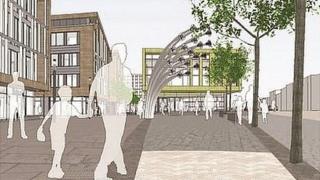 Plans for a public art sculpture in Keynsham have been scrapped in the face of public opposition.
The 6m (19 ft) stainless steel floral work was commissioned by Bath and North East Somerset Council as part of a £100,000 arts fund.
Designed to replace the town's clock tower, it was described as an "eyesore" by some residents and only "liked" by one in ten in a public consultation.
A council spokesman said a single clock sculpture will be commissioned instead.
According to the designer, Seamus Staunton, the brief was to develop an artwork to "fulfil the function of the clock tower" that had stood in the town centre since 1960 and been demolished as part of the redevelopment.
"I was asked to create an artwork that would have a visible presence and act as a kind of landmark," he said.
"But I think everybody expects that the work will somehow represent or conform to everybody's enthusiasms, prejudices and presumptions and that's an awful lot to ask from a single piece of work."
'Child's toy'
But Iris Lypinia, from Keynsham Civic Society, said it not only failed to represent Keynsham "in any way" but people were "adamant they don't want it".
"We've always been very progressive and proud of our history," she said.
"It would be very nice if something had been done to show that, rather than put up something which reminds me of that child's toy [Kerplunk] where they get straws and put beads on the top."