Highwood Road closure meeting postponed after protest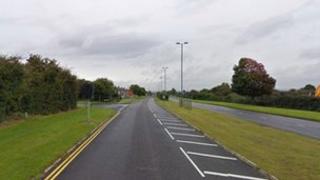 A meeting to discuss permanently banning cars on a road in north Bristol has been postponed after more than 200 people turned out to protest.
Highwood Road in Patchway was turned into a bus and cycle route last October, as part of an 18-month trial.
South Gloucestershire Council says the bus route is a crucial element in its £102m MetroBus Scheme.
But local residents claim it is causing jams on nearby roads and want it turned back into a dual carriageway.
Plans to turn Highwood Road into a "linear park" with green spaces and bus and cycle lanes were originally agreed in 2002.
But last year, a 4,137-signature petition against the bus lane was submitted to the council and a recent public consultation has found 89% of the 221 respondents were against keeping it.
'Strong feelings'
Councillor Brian Allinson said they were "aware there were strong feelings about the proposals" but rejecting the scheme could put the city's transport arrangements "at risk".
"This has been planned for a very long time as the route of the new Bus Rapid Transit," he said.
"And we have to come to a conclusion that is suitable for Patchway and doesn't challenge that."
The decision will now be taken at the next full council meeting, to be held at a larger venue where "all those who wish to attend, and make representations, are able to do so" a council spokesman said.