M4 variable speed limit near Bristol to start in October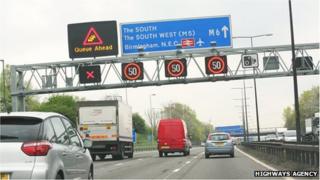 Variable speed limit signs on the M4 near Bristol will become operational next month.
It is part of an £88m Highways Agency project to make the motorway network around the city safer and provide more reliable journey times.
Drivers will be also be allowed to use the hard shoulder from November - when permitted by the overhead signals.
Variable limits come into force on the M5 in November with hard shoulder running from January.
The work, which started in January 2012, has seen the installation of overhead information signs, CCTV cameras and vehicle speed sensors in the road surface.
The project runs until spring 2014 but the Highways Agency is confident the work will be finished ahead of schedule and on budget.
'Mandatory limits'
At present the new infrastructure is being tested and Highways Agency staff are being trained in its operation.
Operators at the Avonmouth control centre are alerted when the traffic density approaches 1,500 vehicles per lane per hour - which is the motorway running "at capacity".
But before the hard shoulder is opened operators have to check the cameras to make sure there are no stationary vehicles or debris.
Project manager Paul Unwin said because the operators had 100% camera coverage of the managed section they could set signs quickly to a mandatory 50 or 60mph - enforced by speed cameras - or close off lanes with a red X on the overhead sign if an incident occurs.
"If you're travelling at 50 and you have a minor rear-end shunt you're far more likely to be able to walk away.
"If you are travelling at 70 - or more likely 80 or 90mph - on an unregulated motorway - you're going to be in intensive care or worse you'll die," he added.
The three-mile (4.8 km) section of the M4 stretches between junctions 19 (M32) and 20 (Almondsbury interchange)
On the M5 the managed section stretches between junctions 17 (Cribbs Causeway) and 15 (Almondsbury interchange).
Motorists can expect to see the hard shoulder opened during the daily rush hour and big events.