Five-year old heart-disease boy in school place row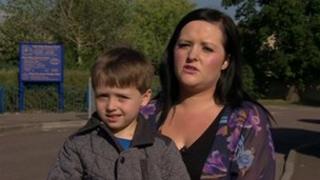 A mother from Bradley Stoke is lobbying the council to get her son into a school nearer home due to fears over his heart problems.
Tracy Atkins has tried to get her son Camron into three schools near home but they were already over-subscribed.
South Gloucestershire Council has offered another school with free bus transport but she fears it is too far away if he fell ill.
Since birth Camron has had severe heart disease and is too weak to walk far.
'Really hard'
The five-year-old has severe aortic stenosis, is a type of heart disease that means the opening of the heart valve is narrowed.
As a result he has had numerous operations, including open heart surgery and gets very tired if he walks for too long.
Miss Atkins said: "I am not going to give up. Camron hasn't given up and I'm not going to give up on him."
The council has said it has done everything it can to offer assistance.
A spokesman said: "We are sorry that we have been unable to offer a place at a local school for Miss Atkins' son, but unfortunately the year groups at her preferred choices were already full to capacity by the time she made her application.
"We recognise that Miss Atkins' son has special requirements and we have done everything we can to try to offer assistance.
"This includes offering free transport to and from the school, which Miss Atkins has not yet applied for."
Miss Atkins has been in contact with the council about free bus transport but was told she may not be able to accompany her son on the school bus.
"I feel that I need to be there with my son, to take him to school and bring him back.
"The prospect of being 35 minutes away from my son if anything happens or goes wrong - I don't drive - it'll be really hard to get to him," added Miss Atkins.