North Bristol NHS Trust 'sorry' for cancelled hip surgery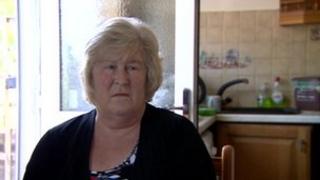 A hospital in Bristol has apologised to a woman for cancelling her hip operation four times.
Patricia Jones, 74, also has rheumatoid arthritis and a heart condition which means she needs a high dependency bed.
Mrs Jones, who said she is in pain all the time, said she had been told her operations were cancelled when an emergency patient needed the bed instead at the last minute.
North Bristol NHS Trust, said safety was "the most important criteria".
Sacha Karakusevic, from the trust, said it wanted to apologise to Mrs Jones and her family.
'Complex needs'
He added: "We do have a number of people with very complex problems and we have to make sure each and every one is treated safely.
"Occasionally that does mean cancelling operations at the moment."
Mrs Jones said: "I can't understand it, it's been cancelled all these times. Why can't they make other arrangements where I could go somewhere else?
"Because of the high dependency bed, they're saying that if someone comes in as an emergency the night before that they're going to cancel my appointment."
Her daughter Lynn Cannock said: "With Mum's complex health needs because of the high dependency bed, stopping Warfarin five days prior to each operation is a worrying thing.
"She needs Warfarin to thin her blood to stop her having strokes. It's making problems for her heart as well as her hip getting worse and worse."