Bristol mayor praises Ashton Court Mansion fire crews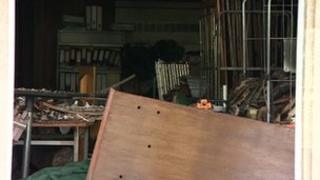 Bristol mayor George Ferguson has taken to Twitter to praise the city's firefighters who dealt with a blaze at Ashton Court Mansion.
Mr Ferguson thanked the crews at Avon Fire and Rescue Service for their "fast and heroic work" stemming the fire on Friday night.
Crews from across Bristol were called to the incident in the northern wing at about 21:00 BST on Friday.
It was contained to two rooms, one of which was the billiard room.
At its height, 40 to 50 crew members tackled the fire overnight and into the early hours of Saturday.
Matt Hunt, group manager at Avon Fire and Rescue Service, told the BBC forensic investigators were still at the scene. The cause of the fire is not yet known.
'Speed and skill'
Speaking after the fire, Mr Hunt said the crews acted "quickly and aggressively" to prevent the building from burning down.
"Without a doubt because of the speed and skill of the firefighters, Ashton Court Mansion was saved from being gutted completely by fire," he added.
A Bristol City Council spokesman said the "quick and effective" actions of the firefighters had undoubtedly saved the mansion house from considerable damage.
"We understand that the fire was limited to two rooms in areas which are not currently open to the public, and Ashton Court has been able to operate as normal over the weekend," the statement continued.
Ashton Court is a mansion house and estate in North Somerset, to the west of the city of Bristol. It is owned by the City of Bristol.
It is used for a variety of activities and events, including the Bristol International Balloon Fiesta and the Bristol International Kite Festival.