Warmley's Grade II-listed signal box gets makeover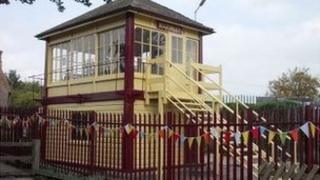 A Grade II-listed signal box in South Gloucestershire has been officially reopened following refurbishment.
Built in 1918, the Warmley building is "steeped in history" and sits on the Bristol to Bath Railway Path, a 13-mile off-road route between the two cities.
The signal box, which is on two levels, now has electricity, lighting and a new viewing platform.
Graham Darby, one of the last signalmen to work there when it ceased operating 45 years ago, was due to attend.
Railway 'glory'
The building still has its original mechanisms, weights and levers. It was last used in 1968.
South Gloucestershire Council chairman Ian Boulton said it was "particularly fitting" for Mr Darby to be involved in the celebration.
"This event will be a fantastic way to open the Warmley Signal Box which has just been fully restored in all its London Midland Railway glory," he added.
It is 95 years since the signal box, which cuts across the London Road in Warmley, was built and organisers and guests were dressed in period outfits.
The opening coincides with the launch of the Box of Delights Festival, which runs through September and October.