Bristol Zoo Gardens 'seal punch' keeper returns to work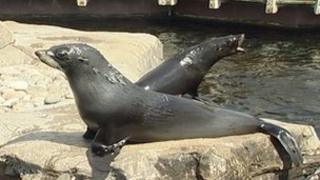 A zookeeper suspended after it was alleged he punched a seal has returned to work at Bristol Zoo Gardens.
A spokesman said an investigation found no seal had been harmed, so managers saw no reason to continue the employee's suspension.
It was alleged the senior keeper attacked the South American fur seal when handlers tried to weigh it.
Bristol Zoo Gardens said every member of the seal family was "healthy, well and behaving normally".
"An allegation of this nature is always taken extremely seriously by Bristol Zoo," the statement continued.
"Contrary to reports, no fur seal has been harmed and seal welfare has not been compromised".
The zoo refused to confirm whether any seals had actually been punched.