Bristol Royal Infirmary (BRI) helipad work completed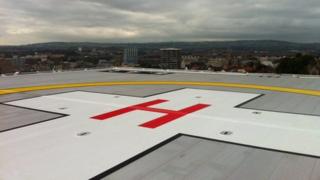 Work on a £500,000 helipad at the Bristol Royal Infirmary (BRI) has been completed.
The platform will be linked to the adult emergency department, the Bristol Children's Hospital and the nearby Bristol Heart Institute.
At present, aviation regulations forbid the Great Western Air Ambulance helicopter from using the rooftop site under certain operating circumstances.
It has to land on the Downs with an ambulance used to complete the trip.
This can take more than 30 minutes in rush-hour traffic.
The charity is running an appeal to raise £250,000 to buy a more up-to-date model.
It will be one of six helicopter providers transporting patients to the BRI and the neighbouring children's hospital.
The landing site, which will be used from the spring, has been funded with £500,000 from the Helicopter Emergency Landing Pads Appeal (Help) and is part of a £110m revamp of the BRI.
The Great Western Air Ambulance is the last air ambulance charity in England to rely exclusively on the Bolkow Bo105 helicopter.