Bristol and Somerset police horse patrols could be repeated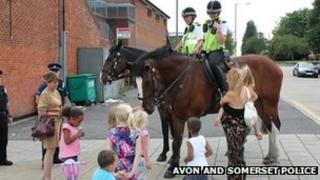 A trial of using police horses to deter anti-social behaviour in parts of Bristol and Somerset could be repeated.
For the last month, mounted officers have spent time patrolling the Southmead and Hartcliffe areas of Bristol and Bridgwater in Somerset.
Avon and Somerset Police said the trial had proved a "great success" and it hoped the horses could continue the same work in different areas next year.
Mounted officers made four arrests for anti-social behaviour during the pilot.
An officer also issued a £90 disorder notice during the 350 hours the horses were on patrol.
Arrests were also made for other offences and checks carried out which have provided information for anti-social behaviour order applications.
However, mounted section sergeant Kerry Williams said the most important thing to come out of the pilot was the increased public reassurance and approachability of the police in the three areas.
Using horses was trialled to see how effectively they could reach areas where cars cannot go and also how well officers could engage with members of the public.