Bristol pair quit Gordon Bennett balloon race after bad weather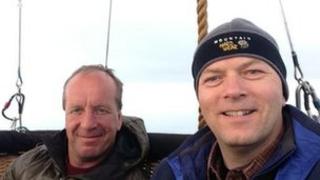 Two men from Bristol taking part in the Gordon Bennett Gas Balloon Race have been forced to quit due to bad weather.
Clive Bailey and Paul Spellward landed on Sunday night and are on their way home from France.
Turbulence forced the British team out of the race, 14 hours and 90 miles (145km) after taking off from Nancy.
The race features gas-filled balloons, as competitors attempt to fly as far as possible from the starting point.
It was created by adventurer and newspaper tycoon Gordon Bennett back in 1906, when 16 balloons launched from Paris.
Each balloon is fitted with the latest meteorological technology and GPS tracking systems which allow .
Over the past two decades, the race has moved from country to country - usually the winning country hosts the following year's competition.
The last time a British team won was in 2008 when David Hempleman-Adams and Jon Mason flew 1,194 miles (1,922km) in four days.