Bristol balloonists make good start in Gordon Bennett race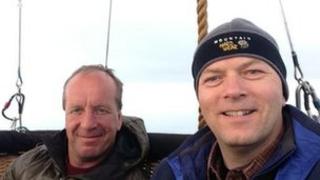 Two balloonists from Bristol have made a good start in the Gordon Bennett Gas Balloon Race and are currently in seventh place.
Clive Bailey and Paul Spellward set off together from Nancy in Northern France, on Saturday night.
The pair representing Team GB are one of 18 teams competing with one aim, to travel as far as possible from the launch site.
They are heading for Germany and have gone more than 40 miles (70 km) so far.
Speaking before the start of the race, Mr Bailey said: "The Gordon Bennett is one of the most exciting of races, it is like a huge mental challenge as well as a physical challenge as we try to work out the best tracks for us to fly the furthest in the shortest possible time as the gas and sand can soon run out."
Colin Butter, who is also a gas balloonist, is acting as flight director and monitoring the journey from a control centre on the ground.
Mr Bailey and Mr Spellward may have to spend up to four days in the air during the race.
Each balloon is fitted with the latest meteorological technology and GPS tracking systems which allow progress to be tracked online.