Six sets of twins from same Bristol school share GCSE success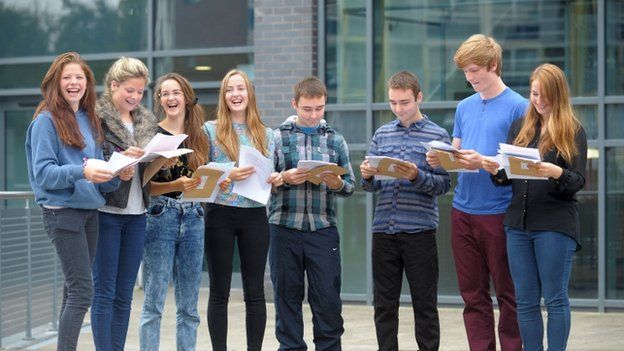 Six sets of twins at one Bristol school have achieved 87 A* and A grades between them at GCSE level.
They are all studying at St Mary Redcliffe and Temple School, where results have increased by 6% this year.
Among their results Dorothy and Florence Hislop, 16, from Bishopston, scored 13 A*s and six As between them.
Dorothy, who gained seven A*s, two As and a B, said her friends had been very nervous as they had been told grades were slipping this year.
Florence, who achieved six A*s and four As, said she was really surprised at getting an A in maths as the exam was difficult.
Charlotte Hook said she had been worried she would not do as well as her twin brother Marcus but achieved two A*s and six As.
"I'm really pleased with what I achieved," she said.
Between them the pair, from Southmead, recorded eight A*s, 10 As, one B and one C .
Charlotte added it had been a "huge relief" they had both done well.
George and Sam Price, 16, from Bedminster, who both have Asperger syndrome, achieved six A*s, four As , six Bs and three Cs.
Both now plan to study maths and science.
Minnie and Tallulah Crawley, from Hewish, North Somerset, shared two A*s, 10 As, seven Bs and one C.
Minnie got one A*, five As and four Bs, while Tallulah scored one A*, five As, three Bs and one C.
Charlotte and Jonathan Penn, from Henleaze, gained eight A*s, five As, six Bs and one C.
David and Jennifer House, 16, scored six A*s, nine As and five Cs.
Nationally, for the second year in a row, there has been a drop in the proportion of GCSE entries achieving top grades.
This year the proportion getting an A* or an A fell from 22.4% to 21.3%.
Related Internet Links
The BBC is not responsible for the content of external sites.