Bristol kebab shop crash: Navlet Anderson jailed for three years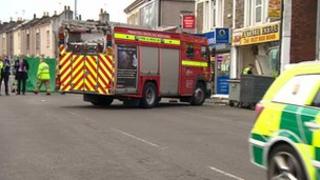 A woman who drove her car into a kebab shop window in Bristol has been jailed for three years.
A jury at Bristol Crown Court found Navlet Anderson guilty of causing serious injury by dangerous driving. She was also disqualified from driving for five years.
The 50-year-old was found not guilty of causing grievous bodily harm with intent.
The crash happened at the Antalya kebab shop on Marsh Lane, Bristol, in April.
'Driving in anger'
Judge Geoffrey Mercer QC said: "It is a matter of pure fortune that the consequences were not more serious - someone could have been killed.
"I have not the slightest doubt that you were driving in anger."
Bristol Crown Court was told several people were hurt including Stephen Brothwood, who suffered fractures to his lower leg, a punctured lung and nine fractured ribs.
The prosecution had alleged Anderson, of Avonvale Road, Barton Hill, suffered a "red mist moment" in revenge for an earlier altercation in which she headbutted a teenage girl - for which she had already pleaded guilty.
In her defence, she told the court a flip-flop she was wearing at the time got caught between the accelerator pedal and the floor of the car.
'Healing process'
The court was told this caused the car to jerk towards the shop window injuring the victims.
In cross examination it was alleged she had steered at the teenage girl, nearly running her over - which Anderson denied.
The prosecution also told the court an eyewitness had heard her say "I'll run you all over", "I hate you all" and "I'll mow you all down".
Det Con Simon Atyeo, from Avon and Somerset Police, said: "The victims are still coming to terms with what happened that day, and some are still dealing with the injuries they suffered."