Broadmead shopping area £250m revamp talks held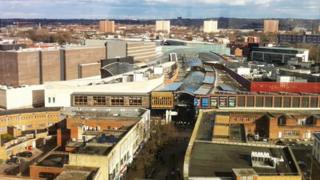 Talks have been held over a possible £250m redevelopment of a central shopping area in Bristol.
Destination Bristol, which represents 600 businesses and two councils, has confirmed talks have been held with two developers about the Broadmead area.
Managing director of the group, John Hirst, said: "We're not looking at another Cabot's Circus situation, we're looking at something smaller."
Cabot's Circus took over ten years to plan and build at a cost of £600m.
Retail confidence
Mr Hirst added: "Developers are always interested in opportunities. They're in a position at this point in time where they are still talking to us about different situations.
"There are some small developments which might happen, there are some larger ones that might happen but nothing is definite yet - we are driving it very hard."
Mr Hirst said he could not comment further about the talks.
"Money doesn't go a long way, so quarter of a billion in redevelopment terms in a city centre is not an awful lot of money.
"Before we can move anything forward we need to get confidence back into retail," added Mr Hirst.
He said his first priority would be to attract developers to Union Gate - where Next used to be based - as planning permission was already in place.
He added that this project would be "achievable in the short term" and he was pushing developers for a start date of when work could begin.
No-one from the Bristol Alliance, which owns Cabot Circus and Broadmead, has been available for comment.