Bath protest against greenbelt building plans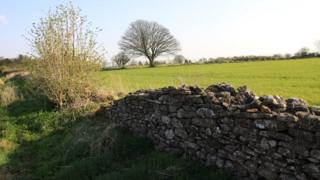 Campaigners protesting against a potential development of 300 new houses on greenbelt land near Bath are to take part in a protest walk.
They object to land on South Stoke plateau being included in Bath and North East Somerset (Banes) Council's blueprint document for new homes.
A council spokesman said brownfield sites were a priority but "every option" was being looked at.
The protest walk is due to take place at 14:30 BST on fields in the area.
Gareth Herincx from the South of Bath Alliance (SOBA), which has organised the march, said: "We want this land to be kept.
"It's a buffer between the city of Bath and South Stoke village, which is a picturesque classical English village. We want it to be there as part of the setting for Bath.
"The land has been earmarked for 300 houses. It's quite possible, because it's a nice lovely flat bit of land, that the council will decide this is an easy option and build there."
The authority needs to build 12,700 houses before 2029 as part of its core strategy.
Leader of the council Paul Crossley said: "We have to find places to build houses. With this core strategy we've tried to share housing across the whole authority.
"We're looking to put more into villages and towns."
The protest walk start at the Cross Keys on Midford Road and take in the Wansdyke scheduled ancient monument, Sulis Meadows and South Stoke's Millennium Seat.