Saltford inquiry opens into plans for greenbelt estate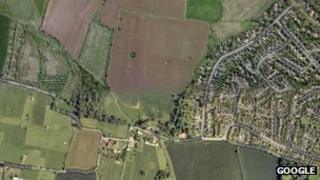 A planning inquiry into proposals for 99 new houses in Saltford near Bath is under way after the council failed to make a decision on the application.
Crest Nicholson called for the inquiry because of the amount of time Bath and North East Somerset Council (Banes) was taking over the bid.
The developer claims the greenbelt land is suitable for the estate and would ease "a severe shortage of housing".
But the ward councillor said it would cause further traffic chaos on the A4.
'Affordable housing'
Banes should have made a decision by last March, but did not consider the application until May - longer than the eight-week limit for applications.
At the meeting, councillors said they were "minded to refuse the application" because it was on the greenbelt and would bring little benefit to the village.
"It's a very big, complex and controversial proposal - it's going to be another 100 houses coming down two residential roads to get onto the A4 and that's going to put enormous pressure on the A4," said Conservative councillor Francine Haeberling.
"I think the developer is trying to circumnavigate the democratic process which I don't think is very helpful."
But Crest Nicholson said the decision to go to the planning inspectorate was down to the council failing to reach a decision within the designated time.
"Our proposal sets out a variety of housing, from two to five-bedroom properties, all of which have been specifically designed to meet the housing needs of local people, without compromising the character of Saltford," said Ben Miller from the company.
"It also incorporates 35% affordable housing, which will help first-time buyers and other purchasers onto the property ladder."
The inquiry is scheduled to last until 20 August with a decision likely to be published in October or November.