Bristol Rovers' move to Frenchay hit by judicial review warning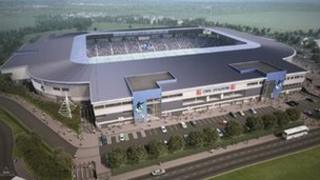 Bristol Rovers' plans to move from the Memorial Stadium to a new ground in Frenchay could be challenged in court.
BBC Bristol's Robin Markwell says an anonymous party is considering seeking judicial review of the planning consent granted for the Memorial Stadium.
In January, councillors gave permission for the club's current home to be turned into a Sainsbury's supermarket.
But now Bristol City Council has been served with a formal notice of intent for judicial review of that decision.
'High Court scrutiny'
A council spokesman confirmed it was aware someone was potentially seeking to "challenge the legitimacy" of its decision in relation to the Memorial Ground site.
"To our knowledge this challenge is not at the stage of a judicial review, but we have received a notice of intent, which was handled by our lawyers as a matter of routine," he said.
"Of course we will vigorously defend any such challenge, and are confident in our position, but will not give a running commentary on these matters."
Mr Markwell said the identity of the individual or group behind the review "wants to stay anonymous at this stage" and had not definitely decided to proceed.
"It could mean that the council's decision-making process is once again subject to scrutiny by a High Court judge," he added.
'Just a blip'
The football club has said it needs to sell its current ground to Sainsbury's to fund the move to a new 21,700-seat stadium at Frenchay, South Gloucestershire.
Communities Secretary Eric Pickles approved the planning application to build the Sainsbury's supermarket in March.
Rovers chairman Nick Higgs said: "The potential is always there for somebody to challenge the legitimacy of any planning application."
He added: "We hope that any delay that may occur from this - hopefully there won't be one - will only be short-lived and it will just be a blip and we can get on with things."
Mr Higgs said plans for the new stadium were "well on" and added that the club could start building work "within six weeks" of getting final approval from South Gloucestershire Council.