Bristol Henbury Loop railway line case pushed by MP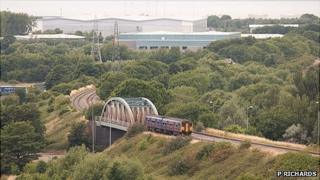 Councils in the West are being urged to commit to re-opening a section of railway track in north Bristol by a local MP.
Conservative Bristol North West MP Charlotte Leslie said demand already exists for the Henbury Loop which could link north Bristol with the centre.
The West of England Partnership said no business case currently exists, but it has just started the initial research.
The group added that it needs a strong business case to attract funding.
'Rocket science'
Ms Leslie said: "Let's crack on, it's not rocket science to say 'pending the funding we will have a Henbury Loop' - instead of saying 'we don't know if we would get funding'.
"Building doesn't happen overnight, you're looking at a lengthy time frame of several years.
"My difference with the West of England Partnership is, since it takes so long anyway, why not be ambitious and state explicitly so people like Network Rail and the new franchisee see their plans on a Henbury Loop."
Two issues exist before the Henbury Loop can be brought into service according to the partnership - waiting for new housing to be built at Filton Airfield to prove demand, and four-tracking at Filton Bank.
Filton Bank only has two tracks which means there is less capacity for local train services and increasing this to four would create room for both high speed and local commuter trains.
Conservative Brian Allinson, chairman of the West of England Transport Executive Committee, said they "can't do it quickly".
Two phases
"It is absolutely essential the four-tracking of Filton Bank is confirmed first and the date for that is October, when we will hear whether or not the funds are available.
"That schedule for works is to start in 2016 with completion in 2017 - that has to be done first."
There are two phases to the transport plan for the Greater Bristol Metro project, the first being to get the Portishead line re-opened and half-hourly services on the Severn Beach line.
The second phase is to see whether a Henbury loop or spur service would be feasible.
The loop would mean creating a "circle" line around Bristol whereas the spur would not.
"The original spur plan was put in, in early 2012. Since then there have been a lot of questions as to whether we should go to the full Henbury Loop," said Mr Allinson.
"We are looking at that in detail. It's a lot more complicated than people realise because that loop exists at the moment but is a very important freight line and the port of Bristol is gathering importance all the time."