UWE Bloodhound scholarship won by South African engineer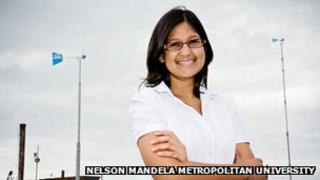 An engineer from South Africa has won the first Bloodhound scholarship to study at the University of the West of England in Bristol.
Beverly Singh from Port Elizabeth will join the Bloodhound engineering team in September and at the same time begin an engineering master's course at UWE.
UWE helped launch the Bloodhound Project to build a car capable of speeds of 1,000mph (1,610km/h).
Ms Singh will work with the team for the final phases of the build.
Sound barrier
"I am hugely excited about this fantastic opportunity," said Ms Singh.
The scholarship programme - announced in November last year by Mark Simmonds MP, the UK Minister for Africa - offers engineering graduates the chance to be involved with the Bloodhound supersonic car project while studying to MSc level.
The Bloodhound supersonic car is currently being built by a team of about 30 engineers in a high-tech centre at Avonmouth, Bristol.
The car is due to go to South Africa in 2015 for a series of test runs (over several months) to break the sound barrier and the current land speed record of 758m/h (1221 km/h).
In 2016, it will attempt to set a record 30% faster than that: 1000 mph (1,609km/h).
The test runs and the record attempts will take place at Hakskeenpan in the Northern Cape Province, where the provincial government is currently preparing the track by removing more than 6,000 tonnes of stones and rocks.