M4-M5 motorway interchange free recovery to end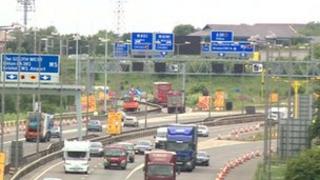 Free motorway recovery on the M4 and M5 near Bristol is set to end as long-term roadworks near completion.
Roadworks have been taking place at the Almondsbury Interchange for the past 18 months, to improve traffic flow.
Emergency refuge areas have been built along the new section of the managed motorway so motorists are never further than 1km (0.6 miles) away from one.
Adrian Hull, from the Highways Agency, said: "We've had about 3,800 breakdowns since we started construction."
The free recovery and 50mph speed limit will stop at the beginning of September for the M4 section and at the end of September for the M5 section.
"It works out at about 200 every month - it is a large number of people and it is preventable," he said.
"About four breakdown every month because of overheating and around 10 every month because they've run out fuel."